---
Transform Your Practice with Online Yoga: Join Our 30-Day Intermediate Level Intensive Course
Are you prepared to take your yoga practice to the next level? If you have been practicing regularly for some time and have a solid understanding of basic yoga poses, you likely want to deepen your practice and enjoy the many benefits that come with sustained yoga practice.
Our 30-day intermediate level online yoga course is the perfect solution. It includes 30 meticulously designed on-demand videos that cover all the fundamental aspects of intermediate level yoga.
Dive into the Main Asana Groups: Standing Poses, Forward Bends, Backbends, and Restorative Poses
Each day, our rotating cycle of class themes will guide you through each of the main asana groups, including standing poses, forward bends, backbends, restorative poses, and more. If you're not quite ready for intermediate level inversions, we've got recommended alternative poses for anyone not wanting to go upside down.
Our online yoga program is accessible and convenient, so you can practice at your own pace, whenever and wherever you want. This makes it ideal for people with busy schedules who still want to prioritise their yoga practice.
Achieve Your Goals: Build Strength, Improve Flexibility, and Find Inner Balance
Whether you're seeking to build strength, flexibility, or simply find more peace and balance in your life, our 30-day Intermediate Level Intensive Course can help you accomplish your goals. We'll be here to support and guide you every step of the way.
So, if you're ready to take your yoga practice to the next level, join Rod for our 30-day challenge. Let's deepen our practice together and experience all the benefits that yoga has to offer.
The images below give you a preview of what you can expect from the first 10 on-demand videos in the 30-part course. Click here to view the complete 30-Class Intermediate Intensive Course at yogaselection.com.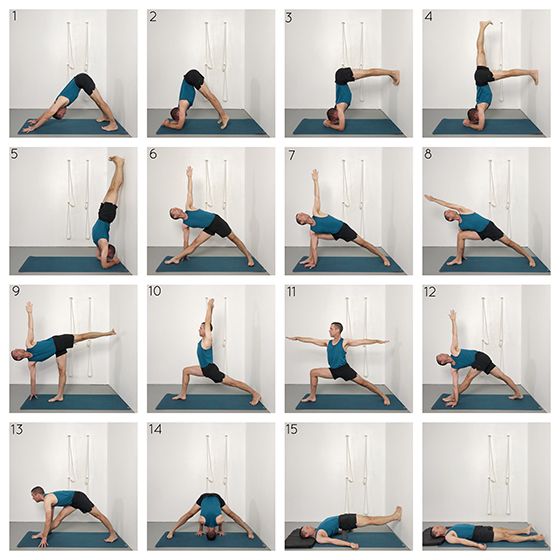 Standing Poses With Inversions
Join Rod for an extended Iyengar Yoga class that offers a complete and balanced practice. In this class, you'll encounter a variety of sirsasana preparatory variations, a full sequence of standing poses, and setu bandha sarvangasana. It's perfect for those who are new to the intermediate level and for experienced practitioners looking for a challenge. This class has a longer duration, giving you ample time to explore the intricacies of each pose. The core of the practice revolves around standing poses, allowing you to deepen your understanding with each repetition. By practicing regularly, you'll uncover new layers of insight and elevate your yoga practice.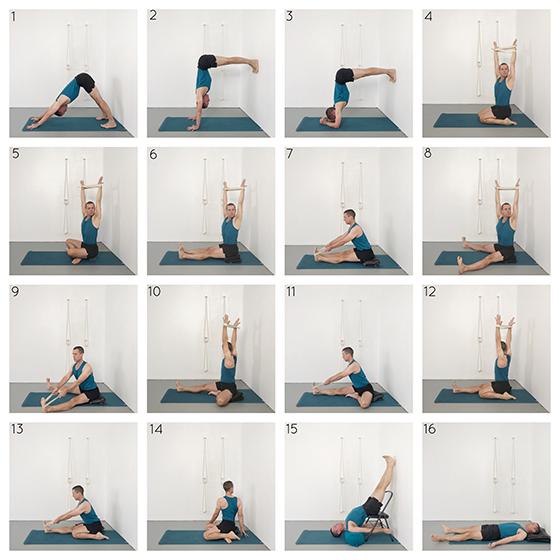 Forward Bends and Twists
Spinal lift is crucial for both forward bends and twists as it offers protection for the spinal cord and vital organs while providing structural support for the body against gravity. Moreover, it facilitates the body's movement and flexibility. When practicing forward bends and twists, it is essential to develop strength and mobility in your spine. In this class, we will focus on maximising the space in your spine and then move on to twisting movements. We will leverage a belt to achieve this in forward bends. Alternatively, you can place a belt around your forearms and press into it as you raise your arms above your head to achieve the same effect, with your spine lifting along with the belt. You must maintain this lift in your spine as you progress towards twisting movements, and our class will guide you through this approach.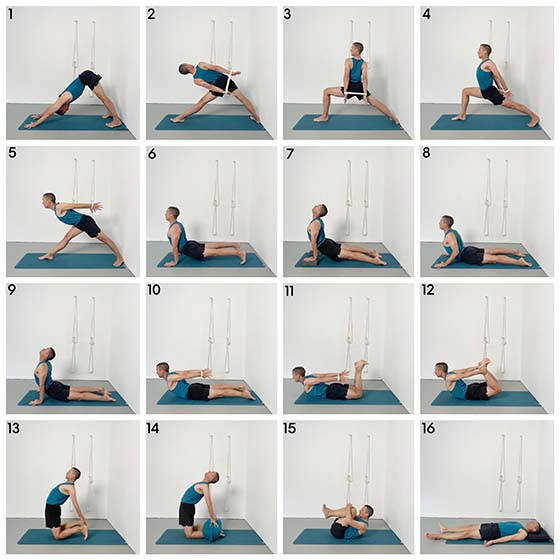 Backbends
Join Rod for this class to enhance your understanding of backbends, refine your skills, and deepen your knowledge of basic backbend techniques. This comprehensive sequence features a range of foundational backbends, including salabhasa, dhanurasana, ustrasana, bhujangasana, and urdhva mukha svanasana, as well as variations of standing poses that complement backbend postures. It doesn't matter whether you're new to backbends or an experienced practitioner; this class is for everyone who wants to improve their posture, increase energy levels, and promote strength and flexibility in their spine.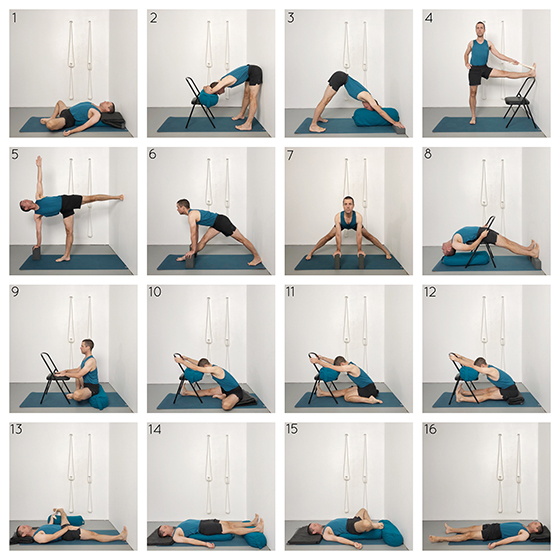 Yoga For Menstruation
This class emphasises yoga for menstruation and includes poses that specifically target abdominal tightness and heaviness. Women who practice the Iyengar method during their menstrual cycle often choose this class. However, this sequence is also appropriate for all practitioners as a restorative and rejuvenating practice. The class not only enhances women's health but also reduces stress and anxiety levels by calming the nervous system.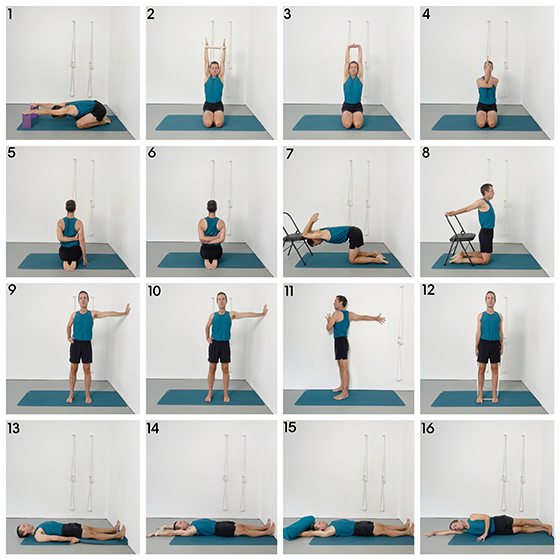 Yoga For Tight Shoulders
If you suffer from tightness or discomfort in your shoulders, this yoga class is for you. Designed to increase shoulder mobility, the sequence of basic shoulder-opening poses is an excellent way to combat stiffness in this complex region of the body. Because the shoulder joint is comprised of bones, tendons, and ligaments, it is vulnerable to a wide range of problems, from minor aches and pains to more serious issues like inflammation and restricted range of motion. Practicing a shoulder-opening sequence on a regular basis can help prevent and alleviate these issues, as well as enable you to access a wider range of yoga poses. Join us for this therapeutic class and experience the benefits of healthier shoulders.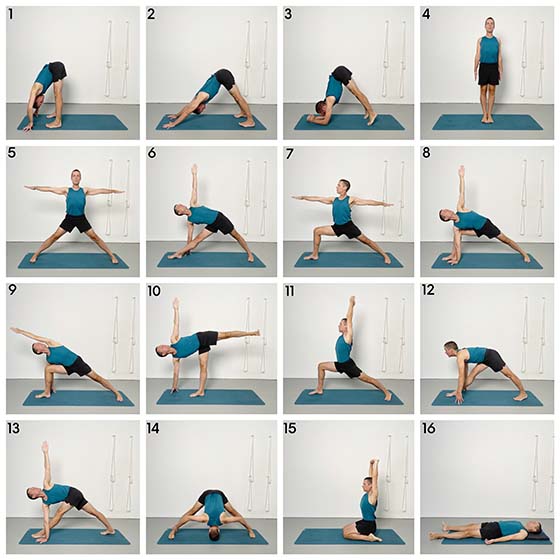 Standing Poses With Minimal Props
This class aims to energise and invigorate your body through a simple sequence of standing poses that require minimal props and no wall support. It emphasises the foundational principles and traditional alignment of standing poses, including nine key asanas from the standing pose group. This class is suitable for both beginners who want to enhance their knowledge of these poses and experienced practitioners who seek a straightforward and efficient sequence to sustain their home practice. Standing poses are beneficial for developing strength, increasing flexibility, and fostering a sense of balance and stability in the body and mind.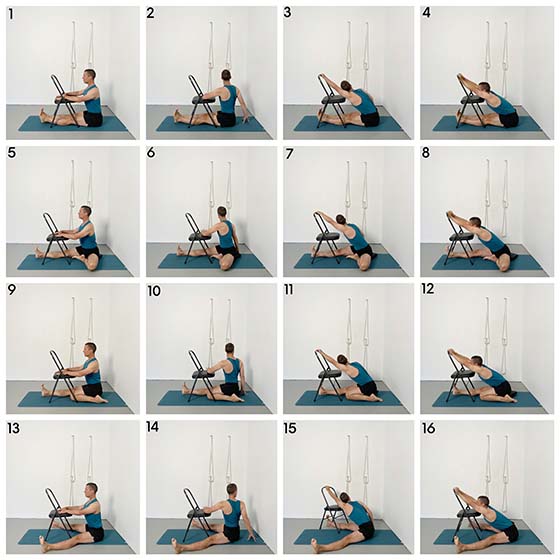 Chair Forward Bends
In this class, we will use a chair to incorporate the upper back and shoulders into forward bends, adding a chest opening energy to this asana group that mainly targets the hips, groins, and hamstrings. Additionally, the class includes twisting variations to identify and address stiffness and imbalances in the muscles connected with the spine and rib cage.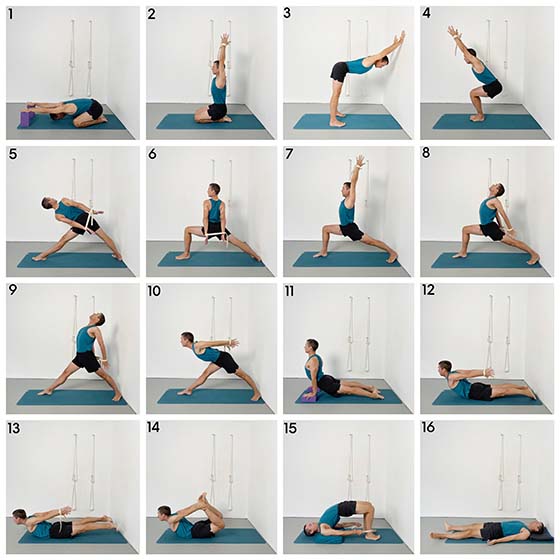 Yoga To Boost Energy
This yoga class aims to boost your energy levels and enhance your mood. It includes a 40-minute practice that incorporates a variety of energising standing poses and backbends. Standing poses are renowned for their ability to enhance circulation and eliminate lethargy. This class takes these poses to the next level by introducing variations that use a looped belt around your arms to emphasise the natural opening of your chest. Additionally, foundational backbends like urdhva mukha svanasana, salabhasana, and dhanurasana are included to reinforce your understanding of introductory backbends. Whether you're a novice or a seasoned yogi, this class will leave you feeling rejuvenated and invigorated.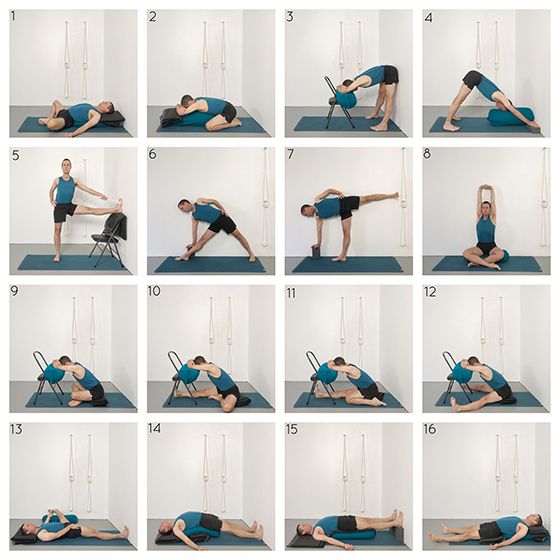 Restorative Yoga
This class offers a sequence of supported poses that provide deeply restorative benefits of yoga. Props are used to help you conserve your energy and hold each pose for an extended period, amplifying its therapeutic effects. Restorative yoga is particularly useful when you feel exhausted, tense, or under the weather, and it can bring equilibrium to your body and mind after a period of busyness. If practiced before bed, this sequence can encourage a restful and peaceful sleep. This class includes a variety of poses from different groups, tailored to promote physical and mental relaxation.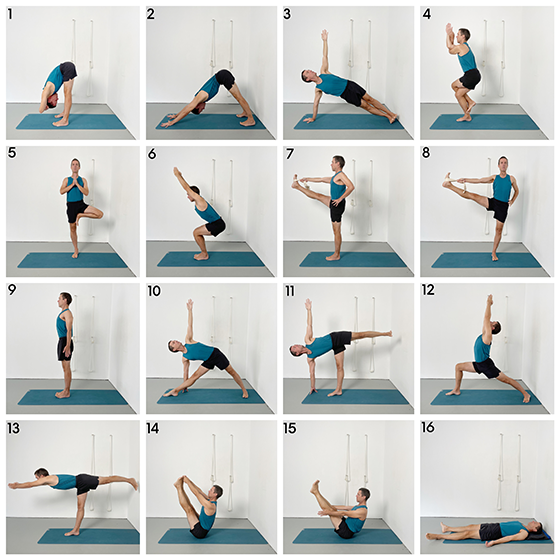 Yoga For Balance
This yoga class focuses on improving your balance and overall body strength through a sequence of challenging poses. The sequence includes various balancing postures that work on enhancing your sense of balance while strengthening your arms, legs, and core muscle groups. Balancing poses require the involvement of multiple sensory fields, including our eyes, inner ears, and muscles throughout our body. Regular practice of these poses can improve your sense of balance and help you maintain equilibrium in potentially precarious positions. This practice can also be especially beneficial for older practitioners as it can counteract age-related deterioration in balance, muscle tone, and bone density, reducing the risk of falls. By practicing regularly, you can become more stable on your feet and less prone to falls, making this class suitable for people of all ages looking to improve their balance and build strength.
Click here to see the remaining 20 classes in the course.
Experience the Benefits of Online Yoga: Deepen Your Practice and Enhance Your Well-being
The 30-day Intermediate Level Intensive Course offered by Yoga Selection is an excellent opportunity for yoga practitioners to deepen their practice and experience the many benefits of sustained yoga practice. The program offers 30 meticulously designed on-demand videos that encompass all the fundamental aspects of intermediate level yoga. The online program is designed to be accessible and convenient, making it perfect for people with busy schedules who still want to prioritise their yoga practice. With classes covering a range of topics such as standing poses, forward bends, backbends, restorative poses, and more, the program is suitable for practitioners of all levels. Join Rod for this 30-day challenge and experience the benefits of a sustained yoga practice.
As a Yoga Selection member you will also have unlimited access to our extensive video library with 650+ on demand classes, a wide array of additional courses, with two new videos released each week. You can also join live classes in real time for more personalised input.
Share:
See Related Blog Posts: